The news of the sudden death of Malikah Shabazz on 22 November 2021 was stunning. The announcement of the demise of the famous 56-year-old woman went viral. #MalikahShabazz trended because Netizens searched the internet frantically to find out more about her death.
Malikah Shabazz was one of the youngest daughters of Malcolm X, the famous civil rights leader who was killed on 21 February 1965. She never met her famous father but she followed in his footsteps. So, she became a renowned human rights activist.
When Did Malikah Shabazz Die?
According to Apnews, on Monday evening, 22 November 2021, the police were called to Malikah's home East 28th Street Midwood, Brooklyn. They found Malikah unresponsive and unconscious and she was later pronounced dead.
Snapchat-yellow-heart-meaning-and-how-to-keep-the-heart
How Malikah Shabazz Died
According to a Brooklyn police spokesman, they have not yet determined how Malikah died. But, it looks like she died from natural causes. However, final medical reports will reveal more.
Interesting Things about Malikah Shabazz
1. She didn't meet her father
Two months after Malikah's mother, Dr. Betty Shabazz became pregnant with Malikah, Malcolm X was assassinated. Malikah was born seven months later.
2. She has a twin sister
Interestingly, Dr. Betty Shabazz was expecting twins. She gave birth to girls; Malikah and Malaak on 30 September 1965. So, Malaak is still alive but their mother died in 1997.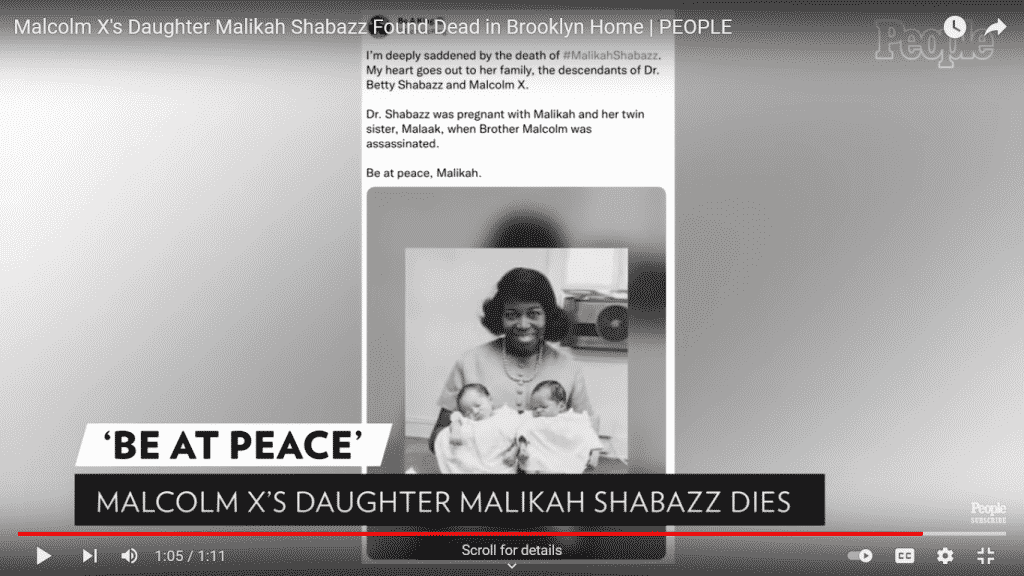 3. Malikah has a daughter
Malikah Shabazz has a daughter Bettih-Bahiyah Shabazz and she is 24 years old.
4. Malikah was an activist
She became a human rights activist like her father and in 2015, she went to Paris to talk about her dad's legacy.
5. She had problems with her sisters
Malikah once accused her sisters of abusing their late mother's estate. And in 2002, her sisters accused her of stealing some of their father's unpublished works.
6. Malikah has faced conviction severally
In 2017, the police arrested Malikah and her daughter Bettih for animal cruelty but the court acquitted them in 2018.
In 2011, someone accused Malikah of identity theft. She pleaded guilty and got five years of probation.
She died a few days after acquittal of her father's killers
Interestingly, a Manhattan judge acquitted Malcolm X's killers in November 2021. A few days later, Malikah Shabazz died.
Laura-bellizzi-instagram-carter-reums-alleged-baby-mama-becomes-suddenly-famous
People's Reactions to Malikah Shabazz Death
Here is what some mourners had to say:
The late Dr. Martin Luther King Jr.'s daughter, Bernice King, tweeted: "The death of #MalikahShabazz deeply saddens me and my family."
Malikah's family said, "We are naturally devastated and shocked by the loss of our beloved Malikah."
The world eagerly awaits official updates about the cause of Malikah Shabazz's death. May she rest in peace.